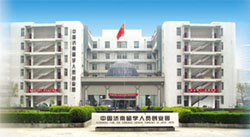 Established in June 1999, with the registered capital of 20 million CNY, Shandong Wanfang Huibo Sci&Tech Co.,Ltd is a hi-tech stock company who takes great advantage of the colleges in JiNan such as ShanDong University, and some other science and research institutes and enterprises. It engages into R&D and manufacturing of automatic OMRV series Optical Mark Reader devices such as OMRV30, OMRV40, OMRV50, OMRV60 and OMRV80. Our company's tenet is "Market-oriented, Sci-tech based, Talents focused, Fame guaranteed and aimed at revitalizing the national industry."

Shandong Wanfang Huibo is a researching institute who boasts high technologies and talents of renowned professors, postdoctoral researchers and postgraduates. Thanks to its dynamic administrative mechanics, democratic decision making, the company's staff are drawn together to get into the swing of their work.

Located in the Pioneering Park for Chinese Overseas Scholars of Jinan, the capital city of Shandong Province, it enjoys a beautiful surroundings and convenient transportation.
---